I would like to ask all responsible Haitians, like me, who believe that another Haiti is possible to come and take part in this great movement to transform the education system.
When I was a student, I had a teacher who would give all my classmates advice on career paths. It took a long time to come up with a profession that would be right for us. After giving his explanation, he finished by saying, "Never waste time in education, don't waste time in teaching because it won't do you any good."
I listened to him with great interest and then asked him who would train future generations. He answered that it was not his problem because only there for the money and that there was no hope for this country. This statement shocked me because I realized that even teachers were denigrating education. Since then, his remark gave me the drive to study education. I wanted to become a remarkable personality in education, fighting for a system with serious, competent people who will view teaching as valuable as any other field and, consequently, help the country develop.
Throughout my studies, my family and friends always put me down because I was studying science education. They perceived me as someone heading in the wrong direction because a teacher is doomed to live a bad life. When my neighbors asked me about what I was studying, they would make fun of me and ridicule me when I told them that I was majoring in science education because it was a useless profession in their eyes. All of this made me realize that everyone in this country only cares about themselves. It's all about having important titles, rolling nice cars, wasting the country's money, and showing off. Although I was terrified by all of this, it never fazed me because my conviction was stronger than what people said.
After graduating, I had the opportunity to participate in a recruitment process where I was appointed principal of a school in Cap-Haitien. When I learned that I would be the principal of this school, I was overjoyed because that day was my great opportunity to kick-off my big dream. But unfortunately,
when I faced reality, things were completely different from what I had imagined. My vision and of the school administration were different. My vision was to provide high-quality education to all students who attended that school. However, the school administration cared more about the economic part; instead of recruiting qualified teachers, they preferred to take less qualified teachers to pay less and keep the rest of the money in their pockets. This realization put me in a weak position because my lamp struggled to light the many other lamps that were unfortunately out of gas.
Some friends told me about Anseye Pou Ayiti and the vision of this movement. Since the proverb says: "Birds of the same feather flock together." I thought it would be an opportunity for me if I were part of this movement. So I applied. After completing the four stages of the recruitment process, I had the chance to be selected as a 2017 cohort member.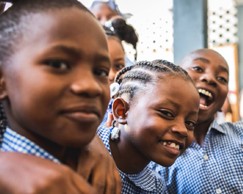 During my 2-year period at APA, I have undergone extensive training in transformational leadership and active pedagogy that allows me to have more knowledge in education and gives me more strength to believe that another Haiti is possible. In this sense, in the community where I work, some other teachers have given me the nickname "Mr. Last Minute." I am the type of teacher who always uses a few extra minutes after class to give my students additional information useful in life. With the leadership training I had at APA, I have developed many skills to build good relationships with other school teachers. I have even helped them by providing them with useful guidance on active pedagogy to improve their teaching. Because of this, they have yielded better results than before.
APA, we must continue to make more efforts that enable the torch to bring more light every day to drive away from the darkness spreading in rural areas by bringing proper education to all children. Just as there are many people with negative thoughts and committing terrible acts daily, we must make more efforts to think more positively and always do what is right so that this wind of change we all hope for can finally blow in the country's direction.
Experience in agriculture shows that a man reaps what he sows. Well, I want to tell all responsible Haitians that another Haiti is possible, and I ask you to come and participate in this great movement to transform the education system. So, in 20 to 25 years, we will have a new generation with a different mentality and believe it is our responsibility to change our country. We can do it!
I encourage all of you to come! Contribute! Apply! For a new generation, for the students, for our country.