Their citizenship level is so developed; they love their country, believe in change, and know each of them is an agent of change in their community.
From 1804 to 1982, the Haitian education system copied the French education system, where we conducted instruction in the French language. This type of teaching was based only on memorization without understanding. We became divided without realizing that the French language was for the elite. Children from disadvantaged areas did not have the same opportunities to succeed as the children from rural areas. The Creole language had become synonymous with poverty, leading to social discrimination.
In 1982, Dr. Joseph Claude Bernard, the Minister of Education, came up with a reform that called for teaching-learning to be conducted in 2 languages: Creole and French. Despite this, we did not notice much change because all the textbooks were still in French, and there were no teaching materials. We can say that because of economic problems, the government did not achieve the reform. However, it was used as "field glasses" for educators to see beyond where their eyes could not reach.
In 1997, the government passed the law "Plan National d'Education et de Formation (PNEF)" (National Plan of Education and Training). This law required that children have access to quality education. Unfortunately, this has never resulted in quality education. This plan aimed to improve the quality of teaching and monitor the progress of the students. We could call this plan the continuity or the extension of Bernard's reform. Despite this, the system still endured significant hardships that prevented it from achieving its goals, such as unqualified teachers, low public school rates, no equal opportunities, issues with materials, etc. These problems caused the new Haiti to remain in theory, unable to accomplish because the country's education system is flawed and pedagogical visionaries cannot determine the source of the problem. Test results are becoming more critical every day; the school dropout rate is appalling. For the few who graduate from high school, most of them do not know what to do because they have no vision; even university students are leaving the country to seek a better life overseas.
However, since 2014, a movement called "Anseye Pou Ayiti" has found the source of the problem. The team's confidence and perseverance have allowed them to follow suit with the campaign in 2015. After all the team's analysis, they have come to realize: "There are many problems, but there are solutions." Because of this, they go to the base to uproot the problems at their roots. For all children to have a high-quality education, APA recruits people who want to contribute to the system, whether they are university students, professionals, or teachers, as long as they have a high school diploma. It equips and recruits people in professional development on active pedagogy and transformational leadership. It has become a network of teacher-leaders teaching from preschool through sixth grade.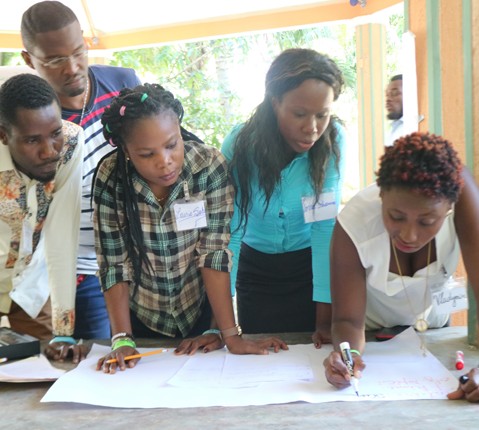 These teacher-leaders teach their students intellectual disciplines and help them develop their skills and elaborate their vision. From preschool, every student knows that they are a leader who works to bring about change in their classroom, school, influence their community until they become a responsible citizen, and accomplish what will be useful to themselves, their family, their community, and their country. Students have the opportunity, even when they are young, to develop a vision. They have a dream. They already know what they will be doing after their classical education. Their citizenship level is so developed; they love their country, believe in change, and know each of them is an agent of change in their community. That way, when they grow up, they won't have to leave the country. Instead, they will have the ability to create their businesses, become entrepreneurs, and give others jobs. Then they will be useful to themselves, their families, and their country.
In a 5-year interval, from 2015 to 2019, Anseye Pou Ayiti has impacted the lives of 10,000 children who have become student-leaders. This is what makes a new Haiti possible.